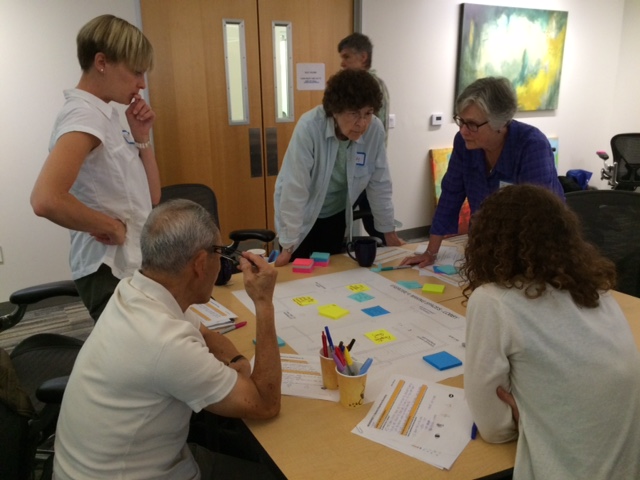 Avenidas, Palo Alto: Design Charette with staff, participants and design team
Avenidas is an innovative and very successful nonprofit organization in downtown Palo Alto. The organization is increasing its impact by doubling the square footage of its current Senior Center. Stadler Architecture was hired to create an interior environment that responds to the need of older adults, from opportunities for social connection to visual/audio comfort. Building Architect is Kenneth Rodrigues and Partners. Move-in date is spring 2019.
Avenidas
The Main Lobby is both 'Central Station' and 'Home Away From Home'
Avenidas
The Wellness Wing is in inviting people to think holistically and incorporates stairs into the daily exercise.
Destiny Arts
Destiny Arts is an organization who offers youth engagement and self-expression through dance and martial arts. An old Oakland warehouse was remodeled to offer generous studio spaces and give Destiny Arts the opportunity to become a community hub for all ages.
Mills College : Founder's Hall
This dining hall, built in the 70's by Skidmore Owens Merrill, needed updating , a new accessible approach and a fresh feel. We designed a new path and stair, new bathrooms, updated the dining room and kitchen.
Mills College : Founder's Hall
Mills College : President's House
The house of the president of Mills College in Oakland serves not only as a home for the president but also as a hub for representational receptions and dinners. The project integrated a new stair and ramp into a beautiful new entry sequence.
Tassajara Retreat Center
This is a study for two new buildings for the Zen Mountain Center at Tassajara in the rugged hinterland of Big Sur.